The Tour 21, the incredible endurance challenge which sees a group of amateur riders tackle the entire route of the Tour de France just one week ahead of the professionals, has passed the half a million pounds raised mark as it bids to raise over one million this year for national blood cancer charity, Cure Leukaemia.
With just ten days to go before the 18 riders begin in Copenhagen for the start of their epic endurance challenge, passing the milestone is a welcome reminder to all the riders and event stakeholders as to why they're about to embark on this journey.
With many riders having their own personal reasons and connections to leukaemia and similar illnesses, the shared collective goal of helping make a difference is a hugely powerful message and one that they continue to share far and wide.
"It's a great time for us to reach this milestone in the drive to raise over £1m again with The Tour 21 as all the riders and staff, as well as all those close to them and those that they're leaving at home, prepare physically and mentally for the highs and lows of what lies ahead," commented Cure Leukaemia Patron Geoff Thomas – who will be looking to complete his sixth Tour de France this year.
"£500,000 is an amazing sum of money and one that makes a real difference for the Trials Acceleration Programme, but we're only halfway there and in reality we're not stopping at just one million, as even that is never enough in the fight against leukaemia."
"I'd like to once again thank all of my fellow riders for their hard work in their fundraising efforts for Cure Leukaemia as well as to all those who've donated so far – together, we're making a difference."
Alongside passing the fundraising milestone, The Tour 21 has also revealed the striking new Santini kit that the riders will be wearing during this year's event. Each rider will receive multiple sets of the apparel, covering Santini's Tono UV range across jersey, bib shorts, warmers, gilets and jackets.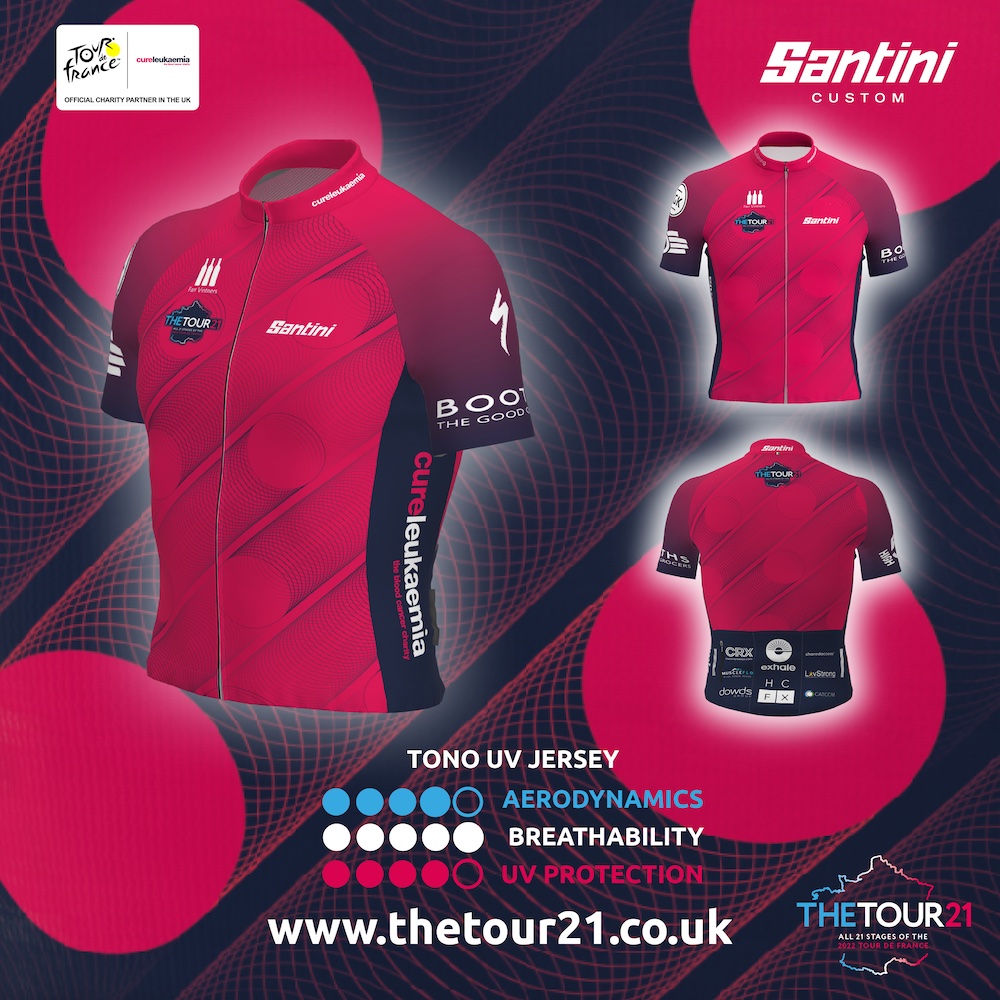 Santini came on board as an event sponsor for 2022, connecting up their new partnership with the A.S.O. as official jersey partner to the Tour de France – to which Cure Leukaemia is the Official UK Charity Partner – and A.S.O.'s associated events. 
Monica Santini, CEO of Santini Cycling Wear, said of the partnership: "We are delighted to be partners of "The Tour 21" and to join forces with Cure Leukaemia. The amateur cyclists will wear a special Santini kit dedicated to 'The Tour 21'. We hope this partnership will help to increase the fundraising and accelerate Leukaemia research."
The Tour 21 sets off from Copenhagen on Friday 24th June, arriving in Paris just over three weeks later on Sunday 17th July.